This has been nagging me for quite some time now. I think about it often and it bothers me that I never see this in action. Science Fiction writers just love to employ this as a means to move a story along improbable routes and fascinating incursions but I'm just not buying it.
What am I talking about?
Time Travel.
And the way I see it, it ain't that easy, regardless on how we eventually manage to move in the fourth dimension. Everything I've read or watched, from the classics by such luminaries as Ray Bradbury, to the crazy but fun nonsense that was TimeCop (there, that aged me), they all, to a person, miss out one fundamental aspect of Time Travel. Something that will make realistic time travel an extremely dangerous prospect, if not impossible prospect.
Now, I'm not going to get into the physics on how to move through time here – that's not my beef. I'm sure that one day we'll do it, I'm just saying that I'm not really sure just on how useful it would be to the common person.
Let's start off and be honest and admit it, we're already time travellers. We're always moving forward in time at a relative speed. No matter what we do, we're always travelling forwards through time and unless you're dealing with all the problems that come with either black holes or travelling close the light speed, it's always the same for you, me and that ugly green slime ball with a ferocious temper and dreams of Universal Domination on Tau Ceti III (which, at a shade less than 12 ly away, is practically a close friend to us all).
Trouble is that, no matter what else we're doing, we're always travelling in the other dimensions as well. Not relatively but we are travelling. We ALWAYS travel in time and space.
For our first example, let's imagine we want to travel 10 seconds into the future. All the SF you read about would have us winking out of existence and winking back, 10 seconds later.
Magic stuff!
Trouble is, this lump of rock we call Earth, isn't stationary – it's rotating (and completes one rotation every 24 hours give or take).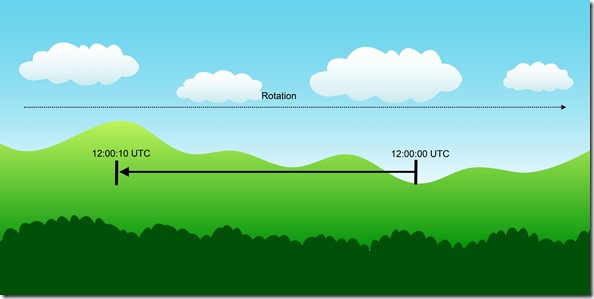 The graphic above shows the effect of 10 seconds of movement. As the planet rotates the fixed point in the 4th valley (from left) essentially moves to the first hill.
So, what does this mean for our erstwhile mad scientist time traveller? It's only 10 seconds, how bad could it be?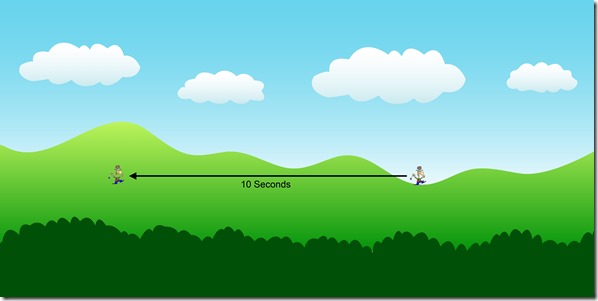 Yeah – he's dead. He travelled in time ONLY and, as a result he reappeared in the middle of the hill.

OK, the argument might go, why not do this in the air?
Well, perhaps so, 10 seconds in the air might not be so bad. Unless you happen to materialize into a passing eagle.

And it's not just flying things one has to worry about. The earth does more than rotation, it's in orbit around the sun. It travels from one side of the sun to the other every six months.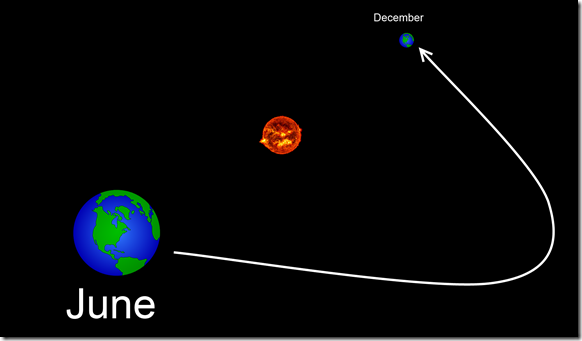 You imagine what it would be like. You travel 6 months in June, and reappear in empty space because earth is now another 180 million miles in the other part of the solar system. Total and abject bummer – talking about sucking vacuum!

So let's use a sealed capsule and ensure we have air wherever we turn up.
Trouble is that space isn't empty. Whilst you might be fine, you might also reappear in the middle of a passing asteroid – and you thought materializing inside a passing eagle was bad!
But wait! It's get's even worse!
Let's pretend we can map every object in the solar system – every last rock. Apart from the ridiculous amount of storage and processing it would take to map all this (but hey, we've cracked time travel, so how hard can that be), there's one more fly in the galactic ointment.
Ever since  the big bang, the universe has been expanding. We don't realize this because the distance we travel is relative to a fixed point and the amount of time we're talking about makes our insignificant lifetime almost irrelevant to the growth.
But grow it does (granted there are a few theories that we're either contracting – at which point the logic still stands, or that we're not moving at all – but the last theory is a pretty wackadoodle concept that's yet to gain traction).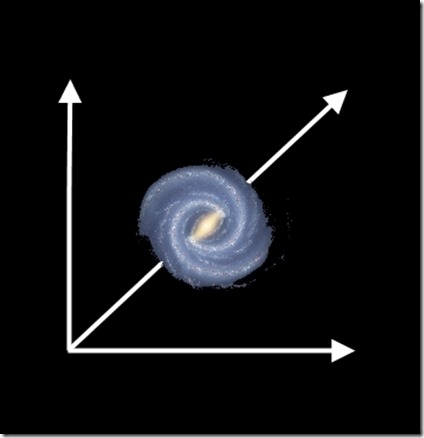 There's our little neck of the wood, the Milky way, travelling in three dimensions simultaneously. So, if we were to travel in time not only do we have to cater for planetary rotation, and the orbit and everything else in our solar system, but now we really need to map out every last single object in the universe and map out its trajectory in an ever expanding infinite universe, just so we can reappear in a safe place.

Let's just say we eventually decide to pick deep deep space.
The space in-between the galaxies for example. There's not much there, why not take our chances with that?
Space isn't that empty, even when it is. it can vary between 104 particles per m3 to 1010 particles per m3 . Pretty busy but potentially survivable? Let's not worry about the atomic structure of deep space and all it still contains at this point and assume we can move passed that (what's a hydrogen atom between friends?).
If we thought that materializing inside an asteroid, mountain, or giant eagle is bad, then remember this: Even a 0.1 μm particle lodged inside your brain can be the difference between life and death. Put that inside an electronic circuit and you could kill the entire system!

We can handle ALL this, really!
OK, let's just pretend we can skip past all that and somehow we can dislodge all these things. Congratulations, we've now travelled 100 years in the future in deep interstellar space.
Question – how did you get there and how long is it going to take to get back 'home'?
Taxi anyone?